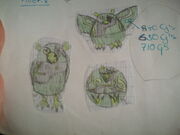 Hootix is an Owl Bakugan, he can be Haos or Ventus.
Information
Edit
Hootix is an Owl-like Bakugan with metal plates in divers places all over his body. He uses a combined amount of speed and power to defeat his enemies in battle.
The Haos version have 690 and 870 Gs The Ventus version has 880 or 780 Gs.