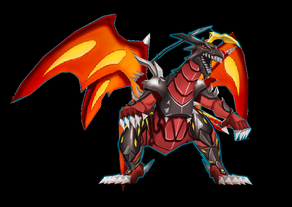 Neo Helios is a Hybrid Bakugan.
He has 700 Gs.
InformationEdit
Neo Helios is a Bakugan of extreme ferocity. He is the product of fused DNA of Neo Dragonoid and Viper Helios. The one thing about him is has not got any Perfect Core abilities like the real Neo Dragonoid.
Description
Edit
He has large wings to be very speedy, spikes to defend himself and a long tail like a whip. He has blades anywhere on his body.
In the Game , he can only be Pyrus and has 600G's both in normal and New Vestroia play.
AbilitiesEdit
General Quasar: Adds 200 Gs to Neo Helios.
Void Stream (Melt Stream): Subtracts 400 Gs from the opponent.
Burst Core: Nullifies all of the opponent's abilities.
Nova Spiral: Nullifies all of the opponent's abilities.
Nova Defenser: Subtracts 400 Gs from the opponent and adds 200 Gs to Neo Helios.
Maximum Quasar: Adds 300 Gs to Neo Helios.
Burning Dragon: Adds 200 Gs to Neo Helios.
Burning Tornado: Transfers 200 Gs from the opponent to Neo Helios.
Fire Tornado: Transfers 100 Gs from the opponent to Neo Helios.
Fire Shield: Subtracts 200 Gs from the opponent.
Burst Shield: Nullifies the opponent's ability.
Tornado Barrier: Nullifies the opponent's ability and subtracts 100 Gs from the opponent.
Omega: Adds 200 Gs to Neo Helios. (General Quasar must be activated in order to use this ability)
Pyrus Slayer: Subtracts 100 Gs from the opponent and adds 300 Gs to Neo Helios
​